Important Lessons for Retail Lighting from The Dress that Broke the Internet
In late February, an innocent question raised by Grace Johnston from Scotland as to what color a striped lace dress her mother wore to her wedding on Tumblr went viral on the Internet. Celebrities and public were equally divided as to whether the dress was blue and black or white and gold, and the heated debate went on well into mid-March. Since the incident, there has been many theories ranging from genetics, optical illusion, visual perception, and poor lighting to explain the phenomemnon. LEDinside had an opportunity to speak to Bridgelux experts Maria Topete, and Aaron Merill, Senior Director of Channel Marketing about this rare visual perception phenomenon, and why this is so important for the retail lighting sector.
Interviewees:
· Maria Topete, Director of Applications Engineering, Bridgelux, Bridgelux
· Aaron Merrill, Senior Director of Channel Marketing, Bridgelux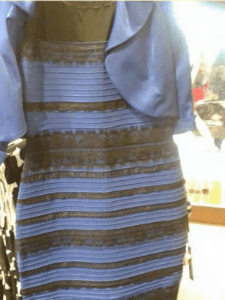 This badly lit photo of a blue and black striped lace dress was perceived by some as gold and white. (Photo Courtesy of Wikipedia)
Q1) Experts are saying the yellow lighting and reflected light caused the dress to be perceived as gold and white, and lack of lighting cues to indicate whether the dress was in a shadow caused the brain to misinterpret the colors. Some say this is a visual phenomenon. Others even turned to genetics or the number of rods/cones in people's eyes as an explanation. What is Bridgelux's explanation for the changing dress color?
Topete: There are many possible reasons why the color of this dress appears different to different individuals. For starters, visual perception of color varies from person to person. Also, the colors that we see are those that are reflected off the dress. Hence, if a light source has a spectrum that is missing colors or has very little content of certain colors (like blue), these will not be reflected off the dress, causing a different visual perception of the colors of the dress. Furthermore, if the light source is very bright, we lose our ability to distinguish colors due to glare. For example, Bridgelux's Décor Series Class A product was created with a "human-centric" approach in color targeting by using Gamut Area Index (GAI) to measure how light and color appeals to and is perceived by the human brain. From that process Bridgelux developed a range of white array LEDs which appeal and look different to people in various settings dependent on how they perceive light.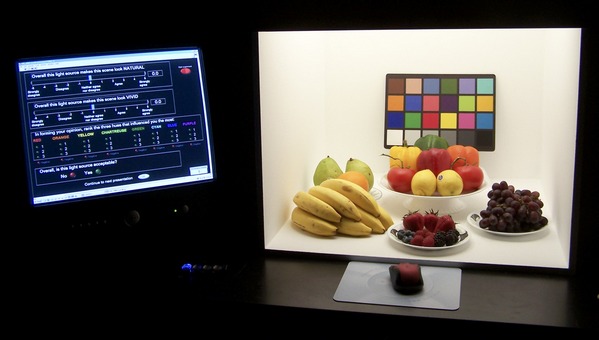 This photo shows how the LED color is measured. (Photo Courtesy of Bridgelux)
Q2) Do people's visual perception of color change as they age and does gender make a difference?
Topete: Yes, people's perception of color changes as they age. For example, babies see blue more than adults.
Merrill : The older you are the more likely you are to gravitate towards or prefer warmer (calmer) and more familiar light color points – those emulating older traditional light sources (i.e. incandescent). Those in their early teens to mid-30s tend to be more open to newer more nontraditional color points and extremes in both cooler and warmer color temperatures.
There are definite perceptual or color taste differences in gender. Women tend to have a heightened sensitivity and a more discerning eye towards light quality than most men. It is not yet clearly understood if women are born with a "shopping gene" (eye for color quality) or if it is a learned skill that is developed over time. As Bridgelux has developed (digitally tuned) LED light colors points and temperatures, we have learned women are far more sensitive to light and that women in North America and Europe tend to respond negatively to light that is too blue. In general, men around the globe, tend to be more receptive to cooler (bluer) light color temperatures –which are commonly used color targets with LEDs.
Q3) What kind of lighting or color temperature should retailers use to avoid color distortion? What is the recommended color temperature for different kinds of retailers, grocery markets, fashion and clothing outlets, restaurants, jewelry and others? Why should retailers be concerned that they get the color temperature right? Does lighting angle, and the way the luminaire is installed also have an impact on the perceived colors?
Topete: This is a difficult question to answer because it depends on the retail establishment, the type of merchandise being sold, the image the store is trying to project, etc. To minimize color distortion you need a light source with a high quality spectrum –one that contains all necessary colors of light in the right amounts. Measures of the quality of light include CRI, or the equivalent, and gamut area index. High quality light sources can be found at many CCT's.
Merrill : A store owner should be thoughtful in picking a color temperature to ensure their product is presented in the best possible light, but also create an environment that is comfortable and productive for employees. Select a color point that is focused on primary business objectives. First, decide if you want to optimize for efficacy ($/per lumen) or optimize for color quality. If you are more concerned about energy savings (via efficacy) you will want to select a cooler temperature CCT and lower CRI. If you are looking to optimize color quality, you would want to select a higher CRI and likely a warmer color point. For example, Bridgelux installed its Class A product at Green Apple Books in San Francisco to create a high-end lighting experience to attract customers. The owner of Green Apple Books wanted more light than what the store currently had. We installed 120 fixtures in the 2400 square foot store, dramatically increasing the amount of high quality lighting in the store while reducing the energy used. The book covers popped and colors were more vibrant, appealing to customers' aesthetics.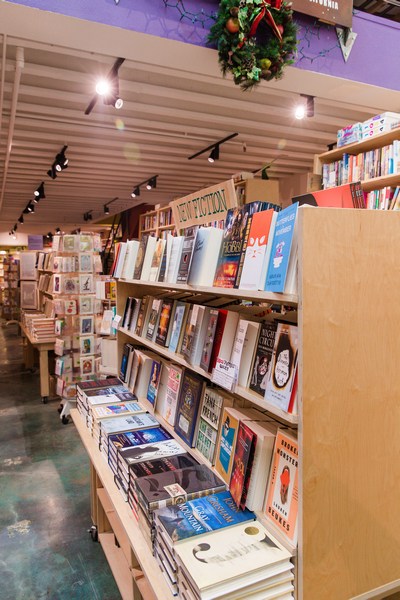 Green Apple Books after upgrading to Bridgelux LED lights. (Photo Courtesy of Bridgelux)
It is difficult to select a specific CCT/CRI for retailers in general, because it should be driven by their specific lighting objectives. The color temperature used in an Apple store is going to be very different than the light going into a Louis Vuitton store and the light we used at Green Apple Books. The Apple store is going to use a bright, punchy, cool to neutral white point (i.e. 4000K CCT with a high CRI and high GAI) to achieve a specific store/brand aesthetic. A Louis Vuitton store would likely use a warmer color point (i.e. 2700K-3000K with a high CRI and GAI) to showcase its colorful handbags and create a cozy, warm, luxurious shopping experience.
Q4) What kind of technology and products is Bridgelux currently working on to ensure color temperature/ perception is accurate and matches natural sunlight?
Topete: The first thing to note is that sunlight changes throughout the day and also varies by geography, altitude, and season, making the goal of matching sunlight difficult. Bridgelux is always working on developing products that produce high quality light.
Merrill : Bridgelux recently developed and introduced the first commercially available Décor Series Class A LED products, which have the most natural color looking color rendering available in the market today. While it does not match natural sunlight, Class A products do provide the fullest color spectrum available today. Color tuning, dimming, and daylight harvesting are new areas of technology being worked on by Bridgelux, which are steps towards having even more natural LED lights.
What role does phosphor play in the LED luminaire design?
Topete: Phosphors convert blue light into various spectrums of light that result in the desired white spectrum. Hence, the phosphors used within an LED product are critical as they control the final spectrum characteristics.
And are there any tips on picking the right phosphor powder for correct retail lighting applications?
Topete: There are many considerations to selecting the correct phosphors, including the ability to create a high quality spectrum, ensuring the resulting product is reliable under all use conditions and over the life of the product.
Q5) Any recommendations/ advice for the LED industry on how the color temperature index can be improved? Thoughts on color quality scale (CQS) and gamut area index (GAI)? Which one will be more likely to be adopted by the industry?
Merrill :Yes. Extensive human response-based field studies (on mixed cultures and demographics) that were performed by the Lighting Research Center (LRC), have yielded a more natural and full spectrum color rendering measure by testing unique color points with a high CRI and GAI (greater than 80). This new high quality color light measure was recently defined by the LRC as "Class A" lighting and is believed to be the most comprehensive light quality measurement developed to date.
Bridgelux has already developed and launched commercially available Class A color points on its Vero product line, which are starting to become popular high quality color points for high end retail, museums, and hospitality applications around the world. Bridgelux Décor Series Class A LED products are available in 3000K, 3500K, and 4000K options.
Measuring light quality is rapidly evolving as more research is conducted on human responses to LED technologies by various independent universities bodies like the LRC and Penn State.
CRI has long been used as a standard way of measuring light quality. This is a limited (one dimensional) way to measure light color quality as it is limited to only eight color samples relative to a standard illuminate and is a measure of hue consistency. The industry has realized CRI alone is not a very good measure as it lacks the sophistication to accurately represent the full color spectrum.
CQS is a slightly more sophisticated light quality measure that was introduced a couple of years ago, that uses a set of 15 color samples with higher Chroma representation, however, it has not been widely adapted as there has been a realization that this measure also lacked the sophistication that the natural color spectrum deserves.
The field research conducted by the LRC (ASSIST consortium, industry think tank) that was based on extensive human response testing of various color points has produced a GAI calculator and a new methodology which the lighting industry has started to use to measure high quality lighting instead of CQS. The LRC approach targets both a high GAI and high CRI measurement and is considered to be the most comprehensive and scientifically tested measurement approach developed to date. GAI is a more accurate representation of how a person will perceive color and measures the strength or dominance of a color. GAI is a measure of hue saturation (chroma) provided by the illumination. CRI is a measure of hue consistency provided by the illumination with respect to reference sources which are limited in color coverage and comparisons vary--which has led to inconsistencies in market standards. By measuring both GAI and CRI a fuller spectrum view can be achieved. Using CRI or CQS as the only measure is much like trying to describe to someone how hot it is in Hong Kong during the summer, where you only provide them one variable (30 degrees Celsius) but do not include a humidity measure (100% humidity) in your heat index measurement. By combining both GAI and CRI a more accurate measurement of high quality light color can be achieved.
Q6) What advantages does the company's LED product portfolio for retail applications have over other competitors, such as Philips, GE, Osram and others?
Merrill: Bridgelux has one of the broadest chip on board (LED) product portfolios in the industry. Bridgelux's product breadth provides customers with greater design flexibility and is a one stop shop for a wide selection of industry leading LED technology, color point temperatures, offered at various price points.
Bridgelux is a fast growing, nimble, highly innovative company that focuses its R&D and market development resources on light source products. Bridgelux is not diluted by multiple business units and does not compete with its customers (fixture manufacturers).
The Bridgelux brand is especially strong in retail and commercial lighting markets as a result of being a leader in developing chip on board (LED) technology and having creating industry standards around high quality color point rendering, color maintenance, color point innovation, and reliability.
Bridgelux was the first LED company to offer 5 and 10 year warranty coverage on its COB products. Bridgelux products are well known for having industry leading efficacy and innovation. In January, Bridgelux even announced its shipment of its Vero® and V Series™ LED array products which have high performing warm white efficacy rates of 130 lumens per watt (lm/W) and greater. This enhanced performance delivers up to 10% additional energy savings over previous generations. Further, the company has achieved a record warm white efficacy of greater than 160 lm/W on its existing chip on board platforms. The Vero Series products have a highly innovative feature rich design that makes it the easiest chip on board product to assemble into a fixture in the industry – with a solderless connector port for plug and play installation simplicity and thermally isolated solder pads for the more cost conscious luminaire manufacturers. Also, the Vero Series provides optimal design flexibility with multiple color and electrical configurations, color point innovation (Décor Class A), high lumen maintenance, reliable current support up to 2X, Zhaga compatibility, and dozens of compatible ecopartner solutions (optics, drivers, holders, etc.). In addition to having best in class products and supply chain support, Bridgelux also supports its customers globally with highly skilled Application Design and FAE support.
(Author: Judy Lin, Chief Editor, LEDinside)